Óscar López Ugarte, head of Data de Rastreator, ha sido el protagonista esta semana del espacio de Capital Radio dedicado al mundo de los datos. Y es que si hablamos de datos, este comparador de seguros online puede presumir de ingentes volúmenes de ellos. Por dar algunas cifras: más de 50 panales de comparación de diferentes productos y servicios, más de 12 millones de clientes únicos o más de 30 millones de solicitudes de precios únicas cada año.
Junto a Óscar, han participado en la tertulia como cada lunes, Esther Morales, socia de PiperLab y Julio Rodríguez, director de la red de Mentoring de España y ha estado conducido por el periodista y director de Capital Radio, Luis Vicente Muñoz.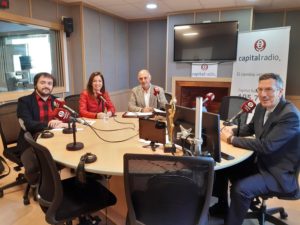 Entre otros objetivos, el principal para Rastreator, en palabras de Óscar, es el de convertirse en una empresa Data Driven, lo que no es especialmente difícil siendo una empresa nativa digital, cuyo negocio se basa principalmente en los datos que recoge.
«Actualmente nos encontramos en un punto en el que la compañía está innovando para desarrollar tecnologías como Machine Learning o Internet of Things. Además, nuestro objetivo es convertirnos en una empresa Data Driven, que base sus decisiones en los datos que obtiene«, ha añadido Óscar.
Escucha la entrevista completa a continuación: