«Gracias a sensores y al Internet of things, y al big data, podemos conocer en tiempo real la situación y el estado de los equipos desplegados de una obra de construcción, así como conocer rendimientos, producciones y cómo va el avance de grandes proyectos de construcción».
Así ha explicado Alberto Avecilla, responsable de Control y seguimiento de activos de Sacyr, esta mañana en el programa «Data is in the Air» de Capital Radio.
Alberto ha estado acompañado por Esther Morales, socia de PiperLab, quien ha coincidido en la importancia de la digitalización de este sector-el segundo menos digitalizado después de la pesca-, dada la cantidad de datos que genera y el potencial que estos tienen a la hora de incrementar la eficiencia de los procesos dentro de un proyecto de construcción.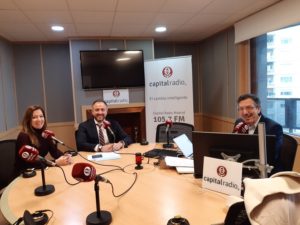 Alberto ha explicado en la tertulia los orígenes de este proyecto.
«Fue una idea muy humilde y un proyecto de intraemprendimiento, que comenzó por la iniciativa de varios empleados de Sacyr en Chile, que quería mejorar la productividad de su trabajo en el día a día. Comenzó como un proyecto de gestión de flotas y con el tiempo se fue ampliando al control de las personas y de las máquinas, para evitar riesgos, para mejorar la seguridad, el mantenimiento…hasta llegar al día de hoy, en el que el proyecto ha trascendido y ya es un proyecto transversal que pretende tener toda la obra conectada«, ha indicado Alberto.
En este sentido, Alberto ha indicado que el objetivo es que otras divisiones de Sacyr y otros departamentos comiencen a utilizar esta plataforma, para monitorizar y gestionar diferentes activos dentro de la compañía. «Tanto es así que forma parte de la estrategia tecnológica de Sacyr: adaptarse a las nuevas formas de trabajo y a las nuevas tecnologías», ha añadido.
Escucha toda la entrevista a continuación: