Enrique Polo, Vicepresidente de Salesforce y Director General para Iberia, es la nueva incorporación al programa de Data is in the Air que esta semana emite su 162 edición en la que también participa Esther Morales, socia de PiperLab.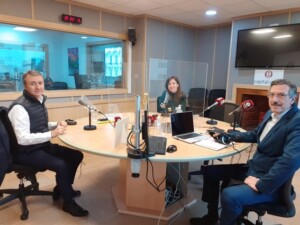 El objetivo del programa de divulgación del uso de los datos se ve reforzado con incorporación al programa como patrocinadores junto con PiperLab de SalesForce.
Tal y como define Enrique la empresa: "Transformamos los negocios. Hacemos que las personas conozcan mejor a sus clientes", una afirmación en la que los datos tienen un papel imprescindible.
Desde Salesforce, empresa líder en soluciones CRM para empresas, tienen claro que los datos son un pilar fundamental de las empresas.  
"Muchas empresas valen lo que valen en bolsa por el valor de sus datos".
La personalización es uno de los conceptos que más han cambiado tras la llegada del análisis de datos. El cliente es el motivo por el que las empresas existen, afirma Enrique, y cuantos más datos posean, mejor será el trato que ofrezcan.
"La personalización tiene la potencia de multiplicar por tres el ratio de conversión"
Esther afirma que es el valor de los datos el que da sentido a esta personalización. El Big Data permite analizar datos que provienen de distintas fuentes (estructurados, desestructurados…) y con diferentes lenguajes para ponerlos todos a un mismo nivel y dar una respuesta única personalizada.
Por otro lado, el impacto de la pandemia también es clave en la digitalización de las empresas. Enrique afirma que no se trata de una serie de cambios puntuales por la situación actual, sino que las modificaciones que están sufriendo los negocios han llegado para quedarse.
"La gran empresa ya tenía clara la digitalización. La pandemia ha obligado a las empresas a hacer un curso acelerado de transformación digital. Además, va a haber una serie de comportamientos, como las reuniones online, que se van a quedar. Es lo más eficiente".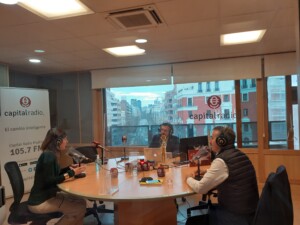 El tema de la digitalización sobre el que ha girado el programa es también protagonista del evento 'Data is in the Air… ¿y ahora qué?', organizado por Capital Radio, Red de Mentoring en España y PiperLab que, un año después de la publicación del libro 'Data is in the air: una visión del impacto del big data y data science en el entorno empresarial' , reúne de nuevo a sus autores para ver cómo ha afectado la pandemia a sus sectores y a la digitalización de sus negocios.
El encuentro tendrá lugar el 4 de marzo de manera online y contará con intervenciones especiales como la de Esteban Moro.
Escucha el programa entero a continuación: