PiperLab ha participado en el evento Women in Data Science Barcelona y Madrid organizado por Aula Magna Business School y que forma parte de la edición anual organizada por la Universidad de Stanford. La ponente Esther Morales, socia de PiperLab, ha estado presente en la mesa Ética y Datos, la última sesión de este evento que tiene como objetivo visibilizar la labor de mujeres relevantes dentro del ámbito de la ciencia de datos.
"Ética y transformación digital tienen que ir de la mano. Hay que delimitar el marco jurídico sostenible y ético de la transformación", Esther Morales.
WiDS Barcelona y Madrid se ha dividido en dos jornadas: 16 y 17 de junio, y ha contado con la participación de referentes como Clara Lapiedra, Founder Aula Magna Business School and WiDS Ambassador, que inauguró ambas sesiones. La segunda jornada se ha celebrado en Madrid y se ha distribuido en cinco mesas redondas diferentes: las oportunidades de los datos en la banca; el valor de los datos en las telecomunicaciones; el diseño UX en el mundo tecnológico; ciberseguridad en los datos; y la ética y los datos.
"Es muy importante elevar la persona por encima del dato", Esther Morales.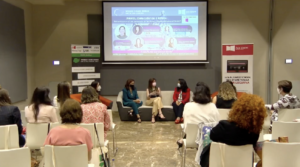 Las ponentes de la primera sesión han sido Miriam Ballesteros, Head of Marketing en HeyTrade, Mayte Valverde, Talent & Cultura Global HR Manager en Banco Santander, Gema Pérez-Plaza, Discipline global Single Development Agenda en BBVA y Vanesa Jiménez, Analytics Transformation Lead en Banco Sabadell.
La segunda mesa ha contado con la colaboración de Laura Cànaves, Business Analyst en Amazon, Carmen Reina, Head of Data Culture en Orange, Beatriz Arias, Head of Operations Europe & MEA Fixed Networks en Nokia y Olga Forné, Global CISO en el Grupo Mediapro.
Las ponentes de la tercera mesa fueron Sheila Esteban, Product/UX Designer en Banco Sabadell, Ana Piérola, Data Scientist Lead en Secuoyas, María Hernanz, Socia Directora Data & Analytics en Lukkan y Marta Bazaco, Global CX Transformation Program Manager en Schneider Electric.  
En la siguiente mesa han participado Mar López Gil, Jefa de la Unidad de Ciberseguridad y Lucha contra la Desinformación en el Departamento de Seguridad Nacional, Mònica Ferrer Albertí, Asociada en Cutrecasas, Rosa Díaz, Directora General en el Instituto Nacional de Ciberseguridad y Paola Scampini, Marketing Director en Europe en Cipher (a Prosegur Company).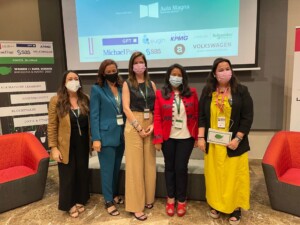 La última mesa ha tenido como ponentes a Eduvigis Ortiz, Stratetic Alliançes Leader en SAS, Julia López Fernández, Vice-President and General Manager Merchant Services Spain en American Express Company, Carolina Latorre, Customer Experience, Facilities and Corporate Social Responsability Director en Schneider Electric y Esther Morales, Socia y Directora de Desarrollo de Negocio en PiperLab.
"Gracias al eco que están haciendo los medios de comunicación contando casos famosos de mala gestión de los datos, estamos creando conciencia", Esther Morales.

"Está cambiando el concepto de Machine Learning a Machine Teaching. Que no sea la máquina la que domina, sino que sea la persona la que está enseñando a la máquina", Esther Morales.