Esther Morales, socia de PiperLab, ha recibido el premio Women in Data Science Barcelona y Madrid, otorgado por SAS por su labor de difusión del uso inteligente de los datos  en el programa de radio Data is in the Air, que se emite todos los lunes en directo en Capital Radio.
El proyecto, que lleva ya cinco años en funcionamiento, y que fue co-creado por Capital Radio con el periodista Luis Vicente Muñoz, Red de Mentoring en España con Julio Rodríguez, y PiperLab, ha tenido como invitados a más de 170 empresas diferentes que conforman el tejido empresarial español y que cada lunes participan contando cómo utilizan sus datos.
El año pasado dio lugar a un libro con el mismo nombre, "Data is in the Air", donde se agrupan en sectores los podcast emitidos y cada capítulo es introducido por una persona referente de cada sector. Los beneficios obtenidos por la venta del libro se destinan a la plataforma de crowfunding de la FECYT, Precipita, para continuar colaborando con nuestra labor de investigación.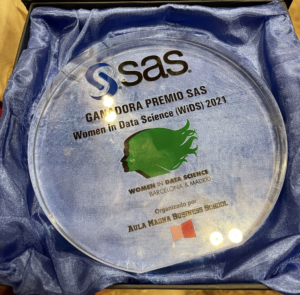 Las premiadas de la jornada fueron, junto a Esther Morales de PiperLab, Elena González-Blanco, General Manager of Europe de CoverWallet y Mónica García Ramos, Manager Insight & Data de Capgemini.
Desde PiperLab queremos dar las gracias a Women in Data Science Barcelona y Madrid y a Aula Magna Business School por otorgarnos el Premio SAS y por la organización de las jornadas que visibilizan el papel de la mujer en el mundo de los datos.