Con motivo del quinto aniversario de Data is in the Air, el programa de radio sobre datos en el que colaboramos con Capital Radio y por el que ya han pasado más de 200 invitados, PiperLab celebró ayer una edición especial con la participación de profesionales en tres mesas redondas temáticas: sostenibilidad, movilidad y tendencias. Con Luis Vicente Muñoz, CEO de Capital Radio moderando, intervinieron también los habituales Esther Morales, socia de PiperLab, y Enrique Polo, VP de Salesforce Iberia, empresa patrocinadora y colaboradora del programa desde hace mas de un año.
Sostenibilidad
En la primera mesa sobre sostenibilidad participaron Paloma Baena Olabe, directora de Next Generation EU de LLYC, Severiano Solana Martínez, director de Seguimiento y Estrategia de Sostenibilidad de CaixaBank, y gustavo Vinacua, co-fundador de Net Positive Labs.
Para los ponentes, el cambio de concienciación sobre la sostenibilidad es ya un hecho,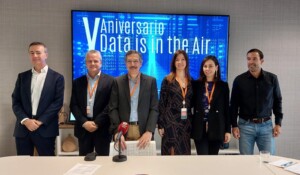 aunque esté mucho más desarrollado en las grandes empresas, a veces motivado por la presión regulatoria europea. Para las pymes aún puede suponer un gran reto lograr la conciliación entre el crecimiento económico de la empresa y el cuidado del medioambiente y bienestar social, aunque muchas otras pequeñas y medianas compañías ya lo están logrando.
"Estamos en la infancia de un cambio de modelo", afirmó Gustavo Vinacua.

"Aún queda mucho que hacer en las pymes, a pesar de que estemos ya visualizando el cambio", explicó Paloma Baena.
Movilidad
Los participantes de la segunda mesa redonda sobre movilidad coincidieron en que los datos son la base fundamental de sus respectivos negocios. Los participantes fueron Carlos Acha Ledesma, Chief Digital Officer de ALSA, Begoña Tiscar, Head of R&D for Main Line de Siemens, y David Sastre Segovia, Chief Consumer Officer de SEUR.
La cantidad de datos que manejan sus empresas es inmensa, por lo que contar con un análisis de esta información es crucial para poder tomar decisiones. Según explicó Carlos, "en ALSA antes se preguntaban qué había pasado el día anterior, ahora con el Big Data se preguntan qué está pasando ahora y qué va a pasar en el futuro".
Lo mismo sucede en Siemens, donde según explicó Begoña, "tener datos es fundamental para poder tener un viaje sin contratiempos de principio a fin". David, por su parte, explicó que en el transporte de mercancías también es un tema que está a la orden del día:
"El análisis de datos no es una moda, es la base de nuestro modelo de negocio. Podemos gestionar la previsión de paquetes bebiendo de la fuente de datos y haciendo análisis predictivo".
Tendencias
En tercer lugar, la mesa de tendencias contó con la intervención de Jorge Villabona, Ecosistem General Maganer de ISDI, Laureano Turienzo Esteban, CEO de Retail News Trends y presidente de Asociación Española del Retail AER retail, y Vicente De los Rios Medina, CEO de Líderes y Digitales.
Para Jorge, "la evolución que se está produciendo en el sector es tal que en ocasiones no da tiempo a digerir las múltiples tendencias que surgen". Lo mismo apuntaron sus compañeros de mesa ya que «el año pasado se crearon más datos en el mundo que en el resto de la historia de la humanidad».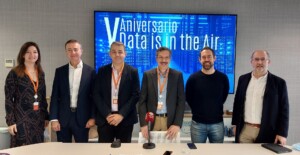 Por otro lado, Laureano añadió su opinión sobre el metaverso, uno de los temas más candentes en cuanto a novedades se refiere en los últimos meses. Reconoció que "el sector de retail está estudiando qué cabida tiene en su negocio y está invirtiendo grandes cantidades", aunque él mismo reconoció tener dudas sobre su desenlace ya que figuras como Jezz Bezzos "no están invirtiendo ni patentando nada". Vicente, por su parte, coincidió con Jorge en que "el metaverso parece tener bastantes salidas en sectores como los videojuegos, aunque en otros como la educación ve limitaciones".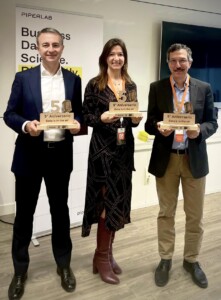 El evento del 5º aniversario concluyó con un cóctel con los invitados donde pudieron intercambiar las últimas impresiones y las opiniones sobre el futuro del mundo de los datos con Esther, Enrique y Luis Vicente, precursores y pieza esencial de Data is in the air. Desde PiperLab agradecemos a los participantes sus interesantes intervenciones y, por supuesto, a los oyentes de Data is in the Air que hacen posible la emisión semanal del programa.
¡Os esperamos en el próximo aniversario!